The Always-Connected Employee
Peersite is a mobile learning and performance support platform that supports quick access to information and content using any device, anytime, and allows your team to engage in learning and skill development outside the confines of the traditional classroom or online training approaches. It can serve to support an existing LMS through mobile learning reinforcement, or act as a stand alone learning and performance support solution.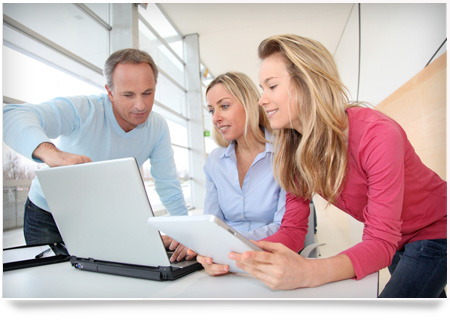 Employees can view short training videos, share insights and experiences, rate and comment about training content, post questions, respond to polls, engage with experts and enter into dialogue with their peers to help shift and shape your company's knowledge and learning base.
Peersite creates a powerful company knowledge base that is refined through the ongoing collective intelligence of your team. It is field tested and validated by the very staff it serves, and as such, they are more likely to embrace the skills and knowledge presented since it represents their insight as well!
Best of all, unlike other platforms, our responsive web approach enables you develop your content once and then deploy it across all devices including traditional desktop computers, tablets and iPads, as well as all mobile smartphone devices including iPhone, Android and Blackberry. It's the all-in-one solution that opens opportunities not possible before! And since Peersite is able to integrate content developed using leading LMS authoring solutions, you're in full control of your training costs.